History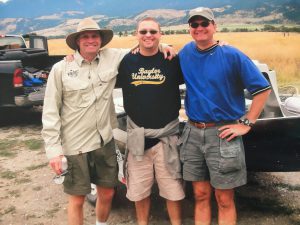 The idea of College Bound Advantage was born in the mountains near Bozeman, Montana when an annual "brothers hiking trip" landed Dr. Jay and his brothers at "Josie's," an inn run by a local college consultant. Josie was a colorful, strong willed woman with a passion for helping every-day Montana families select "best fit" colleges for a reasonable price.
She believed that many families searching for colleges were like "hikers without a map." Her commitment to helping families find their way along the trail to a best-fit college planted the seed for College Bound Advantage.
The "hiking" theme found on this website honors the early awakening of our business idea while serving as a fitting metaphor for the journey that is college selection.
Dr. Jay's idea was to help "everyday Ohioans" clarify and streamline their college search process at an unusually low price point. While virtually all college consulting groups focus on helping students gain admission to selective colleges nationally, CBA would help everyday students optimize college selection in Ohio. While virtually all college consulting groups are led by ex-college admissions professionals, CBA was to be led by an ex-faculty member and Dean. While virtually all college consulting groups focus on the nuts and bolts of admission (essay writing, standardized test taking, application filing, etc.) CBA was to focus on clarifying each family's college selection criteria and matching their students interests and capabilities to majors to explore.
Briefly – we were to be different.
It was also clear that our potential clients were not people used to paying for this service and who probably were not clear on how it could really help them. The good news was that CBA, for what it was to be, had no competition.
CBA launched in January of 2017. The jury is still out, but we are having fun and doing a lot of good. We'll keep you posted!
Our Beliefs
We believe that families of aspiring college students, regardless of gifts and/or challenges, deserve access to the Information necessary to make informed choices about which college to attend. Perhaps the most profound decision of a lifetime is too often left to happenstance and based on limited information. We hope to change that for our client families. Finally, we believe that this information should be affordable, professionally delivered, and easily accessible.
How do we add value to your college search?
Ohio is blessed to have over 60 independent and 14 public colleges and universities as well as 18 community colleges, however each school has different academic programs, degrees of selectivity, cultures, student body demographics, academic support services, cost, student organizations, locations, and resources.
Some colleges apply significant  resources to supporting a variety of learning challenges; others are highly selective and allocate resources to extending academics, and all in between.
Additionally there may be significant differences between the same academic programs (majors) between schools. For example, one school may offer a Geology major supported by 1 full-time faculty member, limited resources, no active student organization, and limited connection to potential employers.
Another, at the same cost, may offer the same major but supports it with 7 full-time faculty members, a large departmental budget, a vibrant and active student organization, an annual study abroad trip, and a recurrent flow of potential employers supporting the program and its students.
How will you know which is which? That's why we are here!