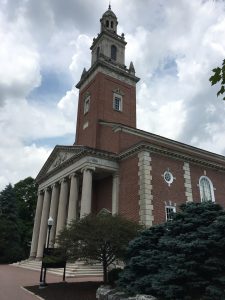 Denison University is a selective, private, residential liberal arts college located on top of a beautiful hill in the quaint village of Granville, Ohio. Similar to Ohio's other pure liberal arts colleges, Denison offers no professional majors, even the Eduction Studies major comes without teaching licensure. Instead, students take courses in many different disciplines and some courses that are interdisciplinary. More than half of graduates are off to graduate school within a few years of graduation.
Denison was founded in 1831, making it Ohio's second oldest private liberal arts college (Kenyon College was founded in 1824).  The college's origins were rooted in theological education, however the University has been a nonsectarian institution since the 1960s. In 2005 Denison reached is current size of approximately 2,250 students and continues its tradition of offering a high-quality liberal arts education.
Standout programs include Environmental Studies, Global Commerce, and Economics (with the Financial Economics Concentration). Denison's unique interdisciplinary major in Philosophy, Politics, and Economics attracts strong students, many of whom migrate to graduate studies in business or law. A new major in Cinema and minor in Data Analytics are gaining some traction on campus as well.
Outside the classroom, Denison offers a vibrant campus life with more than 90% of students remaining on campus most weekends. Just down the hill from campus is the village of Granville, which offers many restaurant, coffee shop, and shopping options. Greek life is active on campus and involves approximately 30% of students in 10 fraternities and 8 sororities. Denison competes in NCAA Division III. They are known for their swim team. Many club sports are also available which choices including fencing, rugby, squash, ice hockey, clay target, equestrian, quidditch, rock climbing, sailing, Zumba, and others.
About the Author: After touring 60 of the best colleges in Ohio and exploring the myriad of majors, minors, certificates, and workforce development programs in the state, Dr. Jay, a prior faculty member and dean, founded College Bound Advantage (CBA) – a Columbus, Ohio college consulting firm. CBA specializes in helping families optimize college selection around 18 "fit factors" and helping students clarify co-curricular and major options while exploring colleges that specialize in them.  CBA also specializes in helping students who want to explore non-traditional educational options that do not require a 4-year college degree. Finally, CBA works with students who started college, but found that, for any number of reasons, it was not for them. College Bound Advantage serves all of Ohio including Cleveland, Akron, and Cincinnati metro areas. Check us out at www.collegeboundadvantage.com or check out what we can do for you here: https://www.youtube.com/watch?v=J6SSjHp8n98