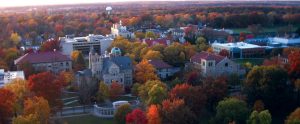 Oberlin College was founded in 1833. It was the first college in the United States to admit students of color and the first to grant degrees to women in a coed program. Oberlin's students are liberal, academically inclined and, even to this day, bleed for a cause.
Located 35 miles southwest of Cleveland in Oberlin, Ohio, the private college enrolls 2,300 students in its highly ranked College of Arts and Sciences, and another 600 in its prestigious Conservatory of Music.
Oberlin is known for its strong programs in Music as well as English and Environmental Science. The Conservatory offers private study in 31 applied areas as well as majors in Performance, Composition, Electronic and Computer  Music, Jay Studies Music Education, Music History, and a double major in Piano Performance and Vocal Accompanying. English is the most popular major with 15% of students selecting to study English and the Environmental Science program is nationally recognized and organized around interdisciplinary Ecological themes. Other strong programs include History, Physics, Astronomy, Neuroscience, and Politics.
Every winter Oberlin offers Winter Term, in which students are able to craft personalized experience coordinated with faculty. Students creative organize internships,  research projects, unique adventures, or study abroad.
While Oberlin does not have social fraternities or sororities, they do offer over 175 active student organizations. Intramural and club sports are also active as are NCAA Division III sports. The campus offers a beautiful setting for its highly motivated, busy, and accomplished students.
About the Author: After touring 60 of the best colleges in Ohio and exploring the myriad of majors, minors, certificates, and workforce development programs in the state, Dr. Jay, a prior faculty member and dean, founded College Bound Advantage (CBA) – a Columbus, Ohio college consulting firm. CBA specializes in helping families optimize college selection around 18 "fit factors" and helping students clarify co-curricular and major options while exploring colleges that specialize in them.  CBA also specializes in helping students who want to explore non-traditional educational options that do not require a 4-year college degree. Finally, CBA works with students who started college, but found that, for any number of reasons, it was not for them. College Bound Advantage serves all of Ohio including Cleveland, Akron, and Cincinnati metro areas. Check us out at www.collegeboundadvantage.com or check out what we can do for you here: https://www.youtube.com/watch?v=J6SSjHp8n98