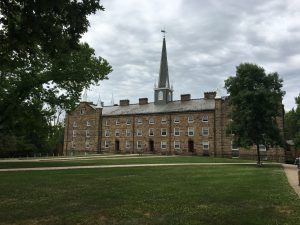 Established in 1824, Kenyon College is the oldest private college in Ohio. It is located in the small, quaint village of Gambier, Ohio and sits just above the Kokosing Gap Trail, a public bike trail that winds along the Kokosing River on a reclaimed rail path.
The campus is noted for its strong liberal arts curriculum, collegiate gothic architecture (think Hogwarts), bucolic rural setting, and hilltop location. Kenyon students come from all over the United States and beyond. They consider themselves intellectual and aligned with the values of a liberal arts college. Kenyon is a residential college, with most students living on campus.  While there are plenty of organizations to get involved in on campus, Gambier is a small town. Faculty are committed and involved on campus, classes are small, and the community is tight-knit.
Like other liberal arts colleges, Kenyon does not offer majors in the professions, so no Business, Education, Nursing, Engineering, or Allied Health. Instead, students immerse themselves in majors in the Arts, Sciences, Humanities, and Social Sciences. Kenyon is best known for its English major and with over 20 English faculty members, it is a great place for aspiring writers. Kenyon is also strong in Economics and Drama. In fact, Kenyon was recently named as one of the "Fifteen best colleges for the aspiring actor" in the College Finder.
Outside the classroom, Kenyon offers more than 150 student clubs and organizations. Greek life has flourished at Kenyon since 1852, however only around 25% of students claim membership. Kenyon also offers a variety of club sports including Archery, Dance, Fencing, Juggling, Rugby, and Squash.
About the Author: After touring 60 of the best colleges in Ohio and exploring the myriad of majors, minors, certificates, and workforce development programs in the state, Dr. Jay, a prior faculty member and dean, founded College Bound Advantage (CBA) – a Columbus, Ohio college consulting firm. CBA specializes in helping families optimize college selection around 18 "fit factors" and helping students clarify co-curricular and major options while exploring colleges that specialize in them.  CBA also specializes in helping students who want to explore non-traditional educational options that do not require a 4-year college degree. Finally, CBA works with students who started college, but found that, for any number of reasons, it was not for them. College Bound Advantage serves all of Ohio including Cleveland, Akron, and Cincinnati metro areas. Check us out at www.collegeboundadvantage.com or check out what we can do for you here: https://www.youtube.com/watch?v=J6SSjHp8n98