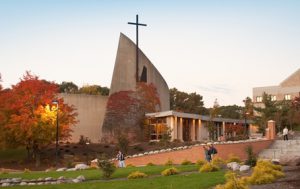 Franciscan University of Steubenville is a private Catholic University in the Franciscan tradition located in Steubenville, Ohio. Franciscan boasts the largest Theology major in the country and has achieved a unique integration of faith and reason in their 41 offered majors. Providing students opportunities for international travel and service, this unique University encourages students to live their faith while completing rigorous academic programs. Like many Catholic institutions, the core curriculum requires 15 credit hours in theology and philosophy. Majors in Nursing, Biology, and Catechetics (Religious Education) are all strong.
The culture at Franciscan can best be described as "Passionately Catholic." Over 70% of students attend mass at least twice weekly and most students participate in Catholic outreach initiatives on an ongoing basis. At Franciscan students deepen their Catholic faith through membership in "households" that are undergirded by, and organized around, faith practices. Students enjoy an ongoing stream of "Catechetics" speakers with some estimating that over 50% of the world's most renowned religious education speakers have visited Franciscan.
Franciscan also boasts one of the largest Priestly Discernment Programs in the country offering human, academic, spiritual, pastoral, and fraternal formation for men considering the priesthood. Currently over 40 men are in this program.
For pro-life students who take their Catholic (or Christian) faith seriously and wish to further deepen their faith during their college years, Franciscan is worth a visit.
About the Author: After touring 60 of the best colleges in Ohio, Dr. Jay, a prior faculty member and dean, founded College Bound Advantage (CBA); a Columbus Ohio college consulting firm. CBA specializes in helping families optimize college selection around 15 "fit factors." College Bound Advantage serves all of Ohio including Cleveland, Akron, and Cincinnati metro areas.
In order to purchase a more extensive proprietary "Campus Field Report" on any Ohio college discussed, click here: https://collegeboundadvantage.com/campus-field-report-access/