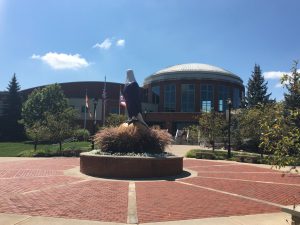 Ashland University is a small (2,500 full-time undergraduates), private university located in Ashland, Ohio. Ashland was founded in 1878 and is affiliated with the Brethren Church although Ashland's faculty and students hail from a wide variety of faiths.
Today, located on a beautiful 135 acre campus, the university offers nearly 70 undergraduate majors and nine pre-professional programs. With Colleges of Business & Economics, Nursing, and Education, Ashland is organized and resourced for strong professional programs in those areas. The education program, which offers pre-K through doctorate level courses/major, is one of the largest among independent and state institutions in Ohio. It is their signature program.
Of course Ashland has more than academics. They also offer 100 student organizations, vibrant athletics, an active Greek system, and plenty of things to do on campus. We liked Ashland and imagine you will too.
If you visit, don't miss their Toxicology Greenhouse, Geology mineral collection, or learning about the Ashbrook Scholars Program.
Campus Video: Check out our video compilation of photos taken at our last visit to Ashland University: https://www.youtube.com/watch?v=P50KWJFR8v8
About the Author: After touring 60 of the best colleges in Ohio, Dr. Jay, a prior faculty member and dean, founded College Bound Advantage (CBA); a Columbus Ohio college consulting firm. CBA specializes in helping families optimize college selection around 15 "fit factors." College Bound Advantage serves all of Ohio including Cleveland, Akron, and Cincinnati metro areas.
In order to purchase a more extensive proprietary "Campus Field Report" on any Ohio college discussed, click here: https://collegeboundadvantage.com/campus-field-report-access/