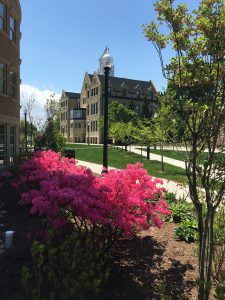 Here at CBA, our journey around Ohio's colleges began last May and our first institution visited was Baldwin Wallace University (BWU). We loved it then and we love it now! Baldwin Wallace University is a gem of an institution! It is located in a suburban park-scape near Cleveland, Ohio – close enough to take advantage of all the entertainment, shopping and internship opportunities of a large city, while nestled in the quaint town of Berea.  While BWU retains its long-term commitment to the liberal arts, they offer a number of strong professional programs including those in Business, Nursing, Communication Sciences & Disorders, Sport Management, and Software Engineering. Music and the performing arts are particularly strong at BWU. With one of only five Conservatories of Music in Ohio, BWU is nationally known for their fine music offerings including Music Performance, Music Theatre, and Music Education. The Theatre and Dance Department offers several options including Acting/Directing, Design, and Stage Management as well as a minor in Dance. Finally, they boast one of the best undergraduate Neuroscience programs in the country as well as strong programs in Biology, Chemistry, and Psychology. With over 120 student organizations, Division III athletics, and an active Greek Life, there is also plenty happening on campus. We love BWU and believe you will too!
Campus Video: Check out our video compilation of photos from our last visit to Baldwin Wallace University: https://www.youtube.com/watch?v=GPSlQ4OUOc0
About the Author: After touring 60 of the best colleges in Ohio, Dr. Jay, a prior faculty member and dean, founded College Bound Advantage (CBA); a Columbus Ohio college consulting firm. CBA specializes in helping families optimize college selection around 15 "fit factors." College Bound Advantage serves all of Ohio including Cleveland, Akron, and Cincinnati metro areas.
In order to purchase a more extensive proprietary "Campus Field Report" on any Ohio college discussed, click here: https://collegeboundadvantage.com/campus-field-report-access/