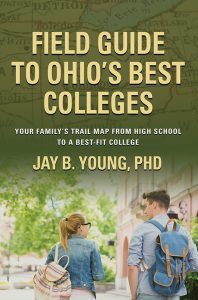 Our new book is now available!
Field Guide to Ohio's Best Colleges: Your Family's Trail Map from High School to a Best-Fit College
 We are proud to announce that our new book, Field Guide to Ohio's Best Colleges, is now available through our website (http://booklocker.com/books/9787.html) as well as through online booksellers such as Amazon and Barnes & Noble. The book features a deep dive into Ohio's top 30 four-year residential colleges and universities – we call them "Ohio's Sturdy 30." In the book we identify and discuss their best academic majors and co-curricular programs. We also help parents and their students build a plan to clarify everything they want in a college experience and to match that to specific colleges that do everything they want at a price they can afford. This is the only book in existence focusing on Ohio's unique and exceptional colleges and universities – check it out!
About the Author: After touring 60 of the best colleges in Ohio, Dr. Jay, a prior faculty member and dean, founded College Bound Advantage (CBA) – a Columbus, Ohio college consulting firm. CBA specializes in helping families optimize college selection around 18 "fit factors" and helping students clarify co-curricular and major options while exploring colleges that specialize in them.  College Bound Advantage serves all of Ohio including Cleveland, Akron, and Cincinnati metro areas. Check us out at www.collegeboundadvantage.com or check out what we can do for you here: https://www.youtube.com/watch?v=J6SSjHp8n98