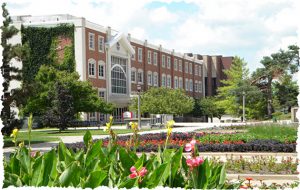 Each year Bowling Green State University enrolls over 14,000 undergraduate students on their main campus. With over 200 academic programs and 325 student organizations, there is a lot going on at BGSU. Established in 1910 as a teacher-training institution, BGSU still has one of the best education programs in the state – but that's not all. Today, strong programs abound, including those in Music, Forensic Science, Accounting, Digital Arts, Apparel Merchandising & Product Development, Popular Culture, Sport Management, Aviation, Architecture, and others.
Additionally, BGSU is one of only a few institutions in Ohio (and the only public university) that offer an intensive, individualized academic support program for students with learning challenges including ADD and ADHD. Their new "FLY Program" (Falcon Learning Your Way) matches students to a full-time learning specialist, assigned tutor, and a writing consultant for each enrolled course. An Academic Coach is also assigned to help students improve time management skills and study strategies. The FLY Program is a specialized service offered for an additional charge.
At BGSU, over 6,000 students live on campus in 14 residence halls and 19 learning and theme communities. In 2016 BGSU opened a new Greek Village complete with townhome-style residences in 10 buildings with individual units for 33 chapters. Dining facilities are first-rate, and options are plentiful.
It's clear that there is a lot to be proud of at BGSU!
Campus Video: Check out our video compilation of photos from our last visit to Bowling Green State University:
About the Author: After touring 60 of the best colleges in Ohio, Dr. Jay, a prior faculty member and dean, founded College Bound Advantage (CBA); a Columbus Ohio college consulting firm. CBA specializes in helping families optimize college selection around 15 "fit factors." College Bound Advantage serves all of Ohio including Cleveland, Akron, and Cincinnati metro areas.
In order to purchase a more extensive proprietary "Campus Field Report" on any Ohio college discussed for only $10, click here: https://collegeboundadvantage.com/campus-field-report-access/