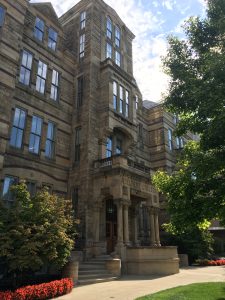 With less than 25% of the student body from Ohio, Case has become more of a national university than a local one. Similarly, with less than half of the student body in undergraduate programs, Case has also become more of a graduate school than an undergraduate one.
None-the-less, with around 5,000 undergraduate students and 82% of them living on campus, a vibrant Greek system, state-of-the-art facilities and a nationally ranked set of STEM and business programs, Case is one impressive institution.
Particularly well respected for their Nursing and Engineering Programs as well as their schools of Law, Medicine, Dentistry, and Business, Case has some of the best professional programs in the state. It hasn't hurt that they have taken advantage of their University Circle location in Cleveland near many cultural, business, educational, and health care institutions in order to provide students clinical, internship, co-op, and research opportunities.
Case has plenty to be proud of!
Campus Video: Check out our video compilation of photos from our last visit to Case Western Reserve University: https://www.youtube.com/watch?v=q7Cnqolwj-Y
About the Author: After touring 60 of the best colleges in Ohio, Dr. Jay, a prior faculty member and dean, founded College Bound Advantage (CBA); a Columbus Ohio college consulting firm. CBA specializes in helping families optimize college selection around 15 "fit factors." College Bound Advantage serves all of Ohio including Cleveland, Akron, and Cincinnati metro areas.
In order to purchase a more extensive proprietary "Campus Field Report" on any Ohio college discussed, click here: https://collegeboundadvantage.com/campus-field-report-access/