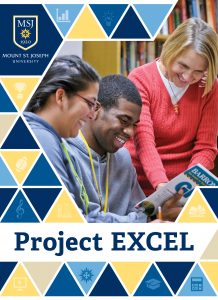 In my last blog entry, we examined Bowling Green State University's "FLY Program," a fee-based academic coaching program designed to help students with learning differences who need an additional level of academic and out-of-class support. In today's blog, we will look at our third of five special learning support programs now offered at Ohio colleges – and this one is really impressive.
Mount Saint Joseph University's Project EXCEL is perhaps the oldest program of its type in the state and we were more than impressed with our visit. They serve students with learning differences including those with ADD, ADHD, and spectrum disorders. They also support students with accompanying mental health challenges such as anxiety or depression.
Formed in 1982 this unique, large, and successful program has stood the test of time, serving students for 37 years. Project EXCEL employs 17 professional tutors and all have been with the program for over 10 years. Each tutor focuses in areas in which they have expertise and they have access to all college course syllabi. Additionally, the tutors have access to course software supporting their student's college courses so they can remain aware of progress and assignment completion. All tutors have earned at least a bachelor's degree with many holding graduate degrees. The current director has been there since 1983. Current enrollment is 65 students and the program boasts a consistent 77% 6-year graduation rate – wow!
Enrolled students begin the program with a formal class taught by the Project EXCEL director. In the class they focus on time management, study skills, and how to best utilize the resources of the program. Project EXCEL is located in a large suite of offices and seems to operate more like a family than a structured service. They even offer students activities such as game night with pizza, Bingo, Halloween party, "Bread Day," and other activities.
Services Include
Gateway course focusing on organization, study skills, self-advocacy, and how to best utilize the program
One hour of tutoring for each course each week (90 minutes for math courses)
Coordination with other university services including disability services (accommodations), career services, and counseling services.
Structured intervention to provide additional tutoring, organization, or time management support as needed
Pre-academic advising and advising coordination to ensure that students remain aware of their progress and make appropriate scheduling, course, and instructor selection choices.
Student Mail box in Project EXCEL office area
Mid-term progress reports
Representation for the student with the university "Care Committee" that works to ensure that students are connected to needed resources, programs, and activities.
Similar to other similar programs, Project EXCEL is a fee-based optional offering and costs an additional $1,800 per semester, which covers only 50% of actual costs.
Students apply for admission to Project EXCEL after achieving admission to the University. Most student applicants are accepted but must provide documentation related to their high school performance, a letter of recommendation, application form, ETR, and an interview.  Admitted students often have a primary diagnosis of a learning disability, ADD, ADHD, cochlear implant, or spectrum disorder. The ideal candidate is motivated to take advantage of academic support, has performed academically in the past, and can self-advocate.
Project EXCEL is impressive and should be investigated by families interested in identifying resources to support their student with learning differences. Next week we will look at one another of the oldest and most established of these unique academic support programs. Don't miss it.
About the Author: After touring 60 of the best colleges in Ohio, Dr. Jay, a prior faculty member and dean, founded College Bound Advantage (CBA) – a Columbus, Ohio college consulting firm. CBA specializes in helping families optimize college selection around 18 "fit factors" and helping students clarify co-curricular and major options while exploring colleges that specialize in them.  College Bound Advantage serves all of Ohio including Cleveland, Akron, and Cincinnati metro areas. Check us out at www.collegeboundadvantage.com or check out what we can do for you here: https://www.youtube.com/watch?v=J6SSjHp8n98