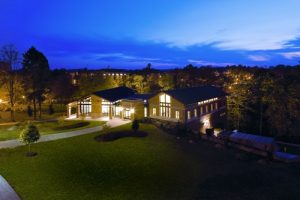 In my last blog entry, we looked at University of Mount Saint Joseph's impressive "Project EXCEL." Their strong staff of experienced, professional tutors and structural supports were impressive indeed. In today's blog, we will look at one of the oldest and easily the largest program serving students with learning differences in Ohio, Muskingum University's "PLUS Program."
Launched in 1983 (only one year after the University of Mount Saint Joseph's Project EXCEL), Muskingum University's PLUS Program has become nationally known and recognized.The PLUS Programis a comprehensive academic support service for college students with learning differences (ADD, ADHD, & Specialized Learning Disabilities such as dyslexia, etc.). Designed to empower, not rescue, the PLUS Program is staffed by an Executive Director, administrative personnel, and a full complement of adult learning consultants (10-12), learning associates, mentors, and auxiliary tutors. All professional Learning Consultants, Learning Associates and Mentors have Bachelor or Master's degrees.
Students in the PLUS Program are supported outside of class in their state-of-the-art facility while attending classes with everyone else. Through "Embedded Learning Strategy" instruction, students are provided instruction in learning strategies that are embedded in course content. This instruction builds upon the strengths of each student while addressing levels of comprehension and mental organization that are often difficult for students with learning differences.Three levels of service are offered and additional fees are charged depending on the level of service. Many students begin at Muskingum utilizing "Full" services, but later migrate to the "Maintenance" or "Essential" levels of service as they gain confidence and skill.
Full ($8,780 per year) andMaintenance ($5,300 per year) levels of PLUS Program services includes:
An Average 2-4 hours per week of weekly individual consultations
Personalized and course-specific embedded learning strategy instruction
PLUS professional Learning Consultants/Associates
Learning Conversations with academic coaching
Executive Functioning support
Strengths-based approach
Focus for Success system
Academic oversight. For Full Services, a learning plan is included
The "Maintenance" level offers the same services as the "Full" level, however with less frequent specialized course learning strategy instruction.
Essential ($2,900 per year) level of PLUS Program services includes:
up to 2 hours per week of weekly individual consultation
Individualized general strategy instruction
PLUS professional mentors
Strengths-based approach
Academic oversight
Currently the PLUS Program serves approximately 180 Muskingum students (out of approximately 1400 full-time undergraduate students). This makes it the largest program of its type in Ohio. It should be noted that University admission requirements are the same for all students and the Non-PLUS student population has no knowledge or care as to who is a PLUS student.
Students may apply to Muskingum University and the PLUS Program after completing the junior year of high school, or they may transfer from other postsecondary programs. Qualified students may apply for PLUS Program services either when applying for admission to the University or following their enrollment. Each applicant is evaluated by a committee for his/her potential to complete degree requirements.Space in the PLUS Program is limited, and students are encouraged to apply early.Students should have a strong college preparatory secondary school curriculum as course and graduation requirements are not compromised for PLUS students.Based on careful evaluation of admission materials and documentation, applicants are invited to the campus for a personal interview with a member of the PLUS Program staff. At this time they can also talk with the Admission staff, members of the faculty, and other students.
The PLUS Program is one of the two oldest programs in Ohio supporting students with learning differences and easily the largest. Their resources are substantial and their approach is time tested and effective.
Next week we will take a look at a unique program specializing in providing learning/living support for students with spectrum disorder. Don't miss it.
About the Author: After touring 60 of the best colleges in Ohio, Dr. Jay, a prior faculty member and dean, founded College Bound Advantage (CBA) – a Columbus, Ohio college consulting firm. CBA specializes in helping families optimize college selection around 18 "fit factors" and helping students clarify co-curricular and major options while exploring colleges that specialize in them.  College Bound Advantage serves all of Ohio including Cleveland, Akron, and Cincinnati metro areas. Check us out at www.collegeboundadvantage.com or check out what we can do for you here: https://www.youtube.com/watch?v=J6SSjHp8n98