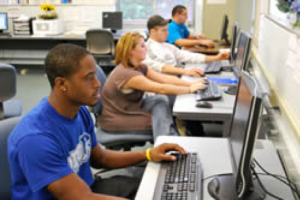 In my last blog entry, we looked at The ASD Affinity Program, the only college learning support program in Ohio focusing solely on students with ASD. In this entry, we will conclude our series on Ohio's college programs supporting students with learning differences with a visit to Notre Dame College's nationally recognized Academic Support Center.
Notre Dame College is a Catholic institution in the tradition of the Sisters of Notre Dame located just outside of Cleveland. The college has a vibrant mix of commuters and residential students as well a diverse, predominantly Ohioan, full-time undergraduate student population of around 1,400. NDC offers a wide set of major offerings, but are particularly well known for their Nursing and Education programs.
They also have a unique support program for students with learning differences. Students with documented learning disabilities may choose a structured, fee-based ($5,300 per academic year) package of services that go beyond basic accommodations. These services are delivered through the Academic Support Center and staffed by full-time and part-time professional learning specialists.
Available services include:
Weekly progress monitoring and ongoing organizational support
Unlimited, individualized, subject-specific tutoring by degreed professionals
Specialized First Year seminar enhanced by a partnership with the Cleveland Clinic and other local resources
One on one career training and workshops to develop employability skills
Social and volunteer opportunities for interested students
See additional details on the Notre Dame College website at: https://learn.notredamecollege.edu
As of this writing, over 100 students were enrolled in the ASC with an average GPA of 2.80. Over the life of the program the ASC has maintained over 80% retention rate – very impressive.
To be eligible for the ASC, Notre Dame College students must be enrolled full time and submit documentation of a Learning Disability. Students who were on IEPs and 504 plans in high school commonly qualify for enrollment in the Academic Support Center. After enrolling, NDC creates an individualized profile for each student.
Thank you for joining us for this tour of Ohio college programs that support students with learning differences.
About the Author: After touring 60 of the best colleges in Ohio, Dr. Jay, a prior faculty member and dean, founded College Bound Advantage (CBA) – a Columbus, Ohio college consulting firm. CBA specializes in helping families optimize college selection around 18 "fit factors" and helping students clarify co-curricular and major options while exploring colleges that specialize in them.  College Bound Advantage serves all of Ohio including Cleveland, Akron, and Cincinnati metro areas. Check us out at www.collegeboundadvantage.com or check out what we can do for you here: https://www.youtube.com/watch?v=J6SSjHp8n98