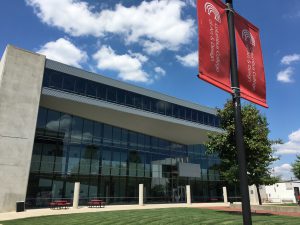 Columbus College of Art & Design (CCAD) is a private college of art and design located in downtown Columbus. Originally founded in 1879 as the Columbus Art School, CCAD is one of the oldest private art and design colleges in the U.S. They are also the largest private art and design college in Ohio.
Located next door to the Columbus Museum of Art, CCAD offers students 10 major areas of study, 16 minors, and 12 concentrations. The largest majors are Illustration, Advertising & Graphic Design, Industrial Design, and Animation, but all are strong. Most importantly for artists and designers, students declare one major area of study, but enjoy plenty of elective space to integrate course work relevant to their unique set of interests and professional goals. CCAD is a creative think tank; ideal for artists who take their craft seriously and can appreciate working alongside others who do too.
Campus Video: Check out our video compilation of photos from our last visit to Columbus College of Art and Design: https://www.youtube.com/watch?v=R-Fx9GYXrGc
About the Author: After touring 60 of the best colleges in Ohio, Dr. Jay, a prior faculty member and dean, founded College Bound Advantage (CBA); a Columbus Ohio college consulting firm. CBA specializes in helping families optimize college selection around 15 "fit factors." College Bound Advantage serves all of Ohio including Cleveland, Akron, and Cincinnati metro areas.
In order to purchase a more extensive proprietary "Campus Field Report" on any Ohio college discussed, click here: https://collegeboundadvantage.com/campus-field-report-access/