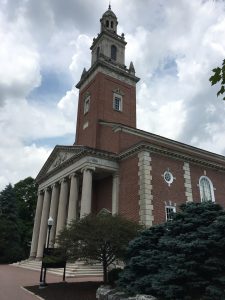 Denison University is a selective, private, residential liberal arts college located on top of a beautiful hill in the quaint village of Granville. Granville is only 30 miles east of Columbus and thus offers access to the amenities of a large metropolitan area. Dennison was founded in 1831 making it Ohio's second oldest liberal arts college (Kenyon College was founded in 1824). Denison is a member of Ohio's nationally recognized "Big Five" liberal arts colleges.
The student body is diverse in a number of ways. First, about a quarter of students identify as multi-cultural and another 25% are first generation college students. Additionally, less than 25% of the students come from Ohio.
Nearly all of Denison's 2,200 students live on campus. Sports are popular and the university offers NCAA Division III varsity sports, intramurals, and club sports. Now, we're not talking just any club sport – how does Fencing, Rugby, Squash, Ice Hockey, Clay Target, Equestrian, Quidditch, Rock Climbing, Sailing, and Zumba sound? If that doesn't sound interesting, perhaps the other 180 student organizations might capture your imagination.
In terms of academics, Philosophy, Politics, and Economics is a unique interdisciplinary major that attracts strong students, many of whom later migrate to graduate business or law school. The fastest growing major is Cinema and the newest is Data Analytics.
Campus Video: Check out our video compilation of photos taken on our most recent visit to Denison University: https://www.youtube.com/watch?v=0hQDG7O_J9A
Stay with us because next week we wander down the trail to to the final member of Ohio's "Big 5," Oberlin College – Can't wait!
About the Author: After touring 60 of the best colleges in Ohio, Dr. Jay, a prior faculty member and dean, founded College Bound Advantage (CBA); a Columbus Ohio college consulting firm. CBA specializes in helping families optimize college selection around 15 "fit factors." College Bound Advantage serves all of Ohio including Cleveland, Akron, and Cincinnati metro areas.
In order to purchase a more extensive proprietary "Campus Field Report" on any Ohio college discussed, click here: https://collegeboundadvantage.com/campus-field-report-access/