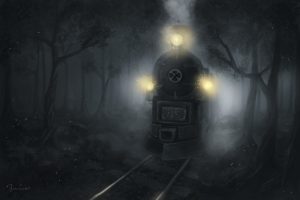 Some college ghost stories emerge out of fictional accounts, but others are born out of real campus tragedies. This story is one of the latter.
Around 9:41 pm on October 28, 1905, a freshman, Stuart Lathrop Pierson, was struck by an unannounced train traveling next to the Kokosing River adjacent to the Kenyon College campus. He was killed instantly. Pierson, a Delta Kappa Epsilon pledge, was participating in a fraternity initiation at the time. Some contend that he had been bound to the tracks and blindfolded, however authorities later concluded that he had been directed to the railroad bridge by his fraternity brothers and asked to stay there until retrieved. Members claimed that the experience was intended as an opportunity for him to contemplate his impending membership. Unfortunately, the surprise of an unexpected oncoming train in the darkness caused Pearson to stumble into harm's way. Pierson's death launched a dark and challenging chapter in the history of Kenyon College. Administrators point out that over time the college recovered and was able to put this tragedy behind them, however many students believe Pierson is still hoping to complete his initiation.
If you visit Kenyon College today, you will find that the railroad bridge where Pierson was struck and killed has been transformed into a bike trail. The tracks were long ago covered over with asphalt. Each year the DKEs mark the anniversary of Pierson's death with a ceremony. Reportedly, they carry a coffin filled with stones down Middle Path and gather at the fateful trestle bridge where fraternity officers read the coroner's report by torchlight. In recent years they also read passages aloud from Fred Kluge's Alma Mater. The ceremony ends with the burning of a wooden DKE sign, which they extinguish in the river, leaving its ashes behind on the bike trail covering the old train tracks.
Some say that on those evenings, as they hike back to campus, they still hear the whistle of a train in the distance. But that's not all – residents of Old Kenyon residence hall claim Pierson can still be seen staring out the window on the fourth floor. Doors open and close and footsteps are heard coming from empty rooms.
So, if you ever visit Kenyon college around Halloween, be sure to enjoy the changing leaves and beautiful campus. As the sun sets listen carefully and you might hear the sound of a mournful train whistle passing over a nearby bridge. Then, as you walk by Old Kenyon, the oldest residence hall in Ohio, glance over your shoulder and check out the fourth-floor window. The spirit of a former Kenyon student may grace you with his presence.
About the Author: After touring 60 of the best colleges in Ohio, Dr. Jay, a prior faculty member and dean, founded College Bound Advantage (CBA) – a Columbus, Ohio college consulting firm. CBA specializes in helping families optimize college selection around 18 "fit factors" and helping students clarify co-curricular and major options while exploring colleges that specialize in them.  College Bound Advantage serves all of Ohio including Cleveland, Akron, and Cincinnati metro areas. Check us out at www.collegeboundadvantage.com or check out what we can do for you here: https://www.youtube.com/watch?v=J6SSjHp8n98