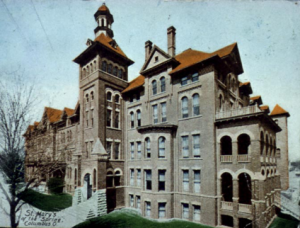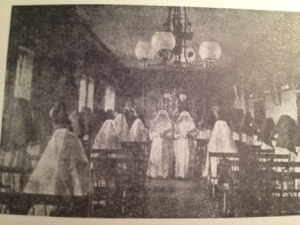 The Old Motherhouse                                                      The Old Chapel that later became "Our Lady's Dorm"
During each of the two prior Halloween seasons I have featured a ghost story from Ohio Dominican University. I have appreciated the many e-mail comments I have received regarding these stories and thought I would offer one final reprisal this year. If you have not read the two prior stories, I encourage you to peruse the archives and check them out.
ODU is a small Catholic (Dominican) comprehensive university located in Columbus. Today, they offer not only a top-notch education, but a rich history including a few stories of things that go bump in the night. According to legend the spirits at ODU are thought to have been prior Dominican Sisters and faculty at the college.
This story was described by a Dominican Sister Mary Michael and took place in the first "Motherhouse," which was constructed in 1875. It was later attached to the west side of the college's dining hall until it (the Motherhouse) was torn down in 1970 (see the picture above). The Motherhouse was the centerpiece of living and activity for the Sisters of Saint Many of the Springs at the time.
The story takes place in the summer of 1947 in "Our Lady's Dorm," as it was called then.
The room was a large dormitory, subdivided by curtains into individual spaces for each sister. Each space contained a bed, washstand, and a chair. The Sister's space was west of a double door that provided entry into the dormitory area. On this particular evening there were only two sisters in the dormitory. All the sisters had heard rumors of ghosts in the building and while Sister Mary had heard these stories, she had never encountered anything herself.  At some time during the night Sister Mary awoke feeling very cold. She thought about getting a cloak as a cover, but then heard footsteps of someone walking the east-west corridor. This was unusual as rules prohibited walking around at night and enforced silence in the area. The pacing started at around 3:00 AM and continued until the corridor had been paced in its entire length a total of 20-30 times. Sister Mary was too scared to look out. Finally, the pacing stopped at the end of the interior hall away from the entry and near a closet. Finally, after waiting awhile and gaining courage, Sister Mary Michael rose and fled the room.
Upon reflection, Sister Mary recalled that our Lady's Dorm had been the Motherhouse chapel before the new chapel had been built. The closet had originally been a confessional in the old chapel. Sister Mary Michael wondered if perhaps the footsteps belonged to the spirit of a Sister who felt the need for penitence and sought it in a familiar place.
About the Author: After touring 60 of the best colleges in Ohio, Dr. Jay, a prior faculty member and dean, founded College Bound Advantage (CBA) – a Columbus, Ohio college consulting firm. CBA specializes in helping families optimize college selection around 18 "fit factors" and helping students clarify co-curricular and major options while exploring colleges that specialize in them.  College Bound Advantage serves all of Ohio including Cleveland, Akron, and Cincinnati metro areas. Check us out at www.collegeboundadvantage.com or check out what we can do for you here: https://www.youtube.com/watch?v=J6SSjHp8n98