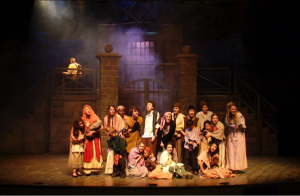 Otterbein University's nationally recognized Theatre Program has offered countless actors and actresses their professional beginnings, however some believe that it also offered one student a final curtain call. As the story goes, a young aspiring actress and student named Twyla became despondent after learning that she had been passed over for a part that she had hoped to earn. Following a period of depression, she decided to end her life as theatrically as she had lived it. One evening, upon returning to the theatre, she climbed to the light fixtures above the stage and jumped 30 feet to her death.
Administrators claim there never was a Twyla at Otterbein, but some students and faculty aren't quite so sure. In fact, over the years, many have blamed Twyla's spirit for everything from power outages and cold blasts of air to missing lighting cues and disappearing stage props. Others have reported hearing Twyla crying on quiet nights in the theatre. Some just claim to "feel her presence." In past years, students repeatedly reported slipping on the very spot where Twyla was reported to have hit the stage when she fell. One evening a noose was said to have suddenly appeared hanging from the lights above the stage. Of course Twyla received the credits that night!
So, is Otterbein's Fritsche Theatre really haunted? We can't say for sure, but if you ever attend a performance, you might consider remaining in your seat for just a few moments after the room empties and the lights dim. If the hairs on the back of your neck stand up and a rush of cold air passes, perhaps it's just Twyla nodding to you as she exits stage right!
About the Author: After touring 60 of the best colleges in Ohio, Dr. Jay, a prior faculty member and dean, founded College Bound Advantage (CBA) – a Columbus, Ohio college consulting firm. CBA specializes in helping families optimize college selection around 18 "fit factors" and helping students clarify co-curricular and major options while exploring colleges that specialize in them.  College Bound Advantage serves all of Ohio including Cleveland, Akron, and Cincinnati metro areas. Check us out at www.collegeboundadvantage.com .