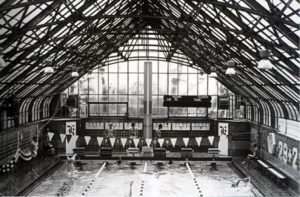 "The Greenhouse"
Kenyon College, located in the quaint village of Gambier, Ohio, has long been known for its excellent swimming and diving programs. In 1935, Charles Shaffer donated funds to construct a state-of-the-art aquatic building on Kenyon's campus. "Shaffer Pool" opened in January of 1936 and contributed to Kenyon winning a number of Ohio Conference swimming and diving championships in the years to follow. The building had a conservatory style roof, which earned it the nickname of "The Greenhouse."
Legend has it that some students became a bit preoccupied with seeing how high they could launch themselves from the highest diving board in The Greenhouse. On one fateful evening, one student apparently launched himself high enough that he smashed through a glass pane in the roof and, after nearly decapitating himself, fell into the pool below.
While administrators at Kenyon can find no record of such a student or incident, other students, faculty, and staff argue differently as they believe this student really never left. Over the years, most of the reports of what later became know as the "Greenhouse Ghost," were told by custodians and safety officers. Their encounters typically occurred well after normal working hours. For example, the sound of a body impacting the water followed by thrashing sounds was commonly reported. When officers investigated or turned to face the pool, they would see disturbed water, but no one in the pool. Then, upon turning around again, they would see a set of wet footprints along the walkway leading away from the pool. Others would report that they would hear the sound of a diving board bouncing not once, but three times. Upon turning toward the board, they could see the board vibrating, but no one near it.
In the 1980s the building was converted to a dance studio. During construction the pool was drained and covered over by a false floor and the conservatory roof was replaced with a wooden, beamed roof more appropriate to its new use. Unfortunately, the Greenhouse Ghost never got the memo as the activity continued.
Staff members continued to tell stories of late night encounters when they would become sensitized to the presence of the spirit. Some nights they would hear footsteps behind them as if they were being followed. On occasion they would, once again, hear the sounds of splashes and bouncing diving boards. Even more unnerving was the periodic appearance of wet footprints across the dance studio floor.
Paranormal experiences in "The Greenhouse" are still reported to this day. So, if you ever visit Kenton College, you might stop by Shaffer Dance Studio, stroll across the dance floor, close your eyes, and listen. Then, just before you leave, look back over your shoulder for any wet footprints on the floor. You never know!
About the Author: After touring 60 of the best colleges in Ohio, Dr. Jay, a prior faculty member and dean, founded College Bound Advantage (CBA) – a Columbus, Ohio college consulting firm. CBA specializes in helping families optimize college selection around 18 "fit factors" and helping students clarify co-curricular and major options while exploring colleges that specialize in them.  College Bound Advantage serves all of Ohio including Cleveland, Akron, and Cincinnati metro areas. Check us out at www.collegeboundadvantage.com .