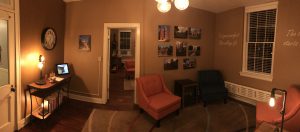 CBA "World" Headquarters in Old Worthington
The thing I have always enjoyed about Thanksgiving is that it offers an opportunity to disconnect, reflect, and spend some time with family. No presents…no obligatory commitments…oh, and the Cowboys always play on Thanksgiving day. All-in-all, many good things indeed. This Thanksgiving is unique in that College Bound Advantage is about to open for business following a six month building process that included visiting over 50 Ohio colleges and universities. We are already working with clients however, and my son Brandon and I are sensing the significant change that is about to occur as the way we spend our time shifts from building knowledge capital, organizing web sites, traveling, writing, and opening an office to working with clients. What a nice adventure this has been and now the fun really begins.
To those of you who have discovered our blog, thanks for reading and….stay with us….next week we will adding the University of Findlay to our look at Ohio private colleges with particularly strong professional programs. In the mean time, enjoy your family, get outside and have some fun, and try to avoid the stores. Like REI employees (remember, our website is organized around backpacking metaphors), we are choosing to OptOutside. In fact, I am giving everyone in the office Black Friday off – easy for me to say…it's just Brandon and I. You'll find us hiking at Highbanks Metro Park, at least until we get lost and have to be airlifted out. Best wishes and Happy Thanksgiving!
About the Author: After touring 60 of the best colleges in Ohio, Dr. Jay, a prior faculty member and dean, founded College Bound Advantage (CBA); a Columbus Ohio college consulting firm. CBA specializes in helping families optimize college selection around 15 "fit factors." College Bound Advantage serves all of Ohio including Cleveland, Akron, and Cincinnati metro areas.
In order to purchase a more extensive proprietary "Campus Field Report" on any Ohio college discussed, click here: https://collegeboundadvantage.com/campus-field-report-access/