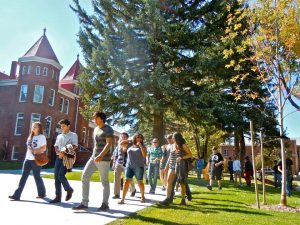 In our work with students, we begin by exploring courses that they enjoyed or excelled at in high school, hobbies, interests, as well as college major and career aspirations. After a lengthy conversation, a general picture of a students potential academic strengths and interests begins to form. While preliminary, it does give us an opportunity to cast a broad  net in order to offer the student possible majors to explore and a map for how to accomplish that when they visit colleges. High school students seldom know what college major options are available, what each really entails, the courses that will be a part of that major, or how each major might translate into a possible career starting point.
One important distinction we make is the difference between a research or "pure discipline" major and an applied major. This distinction helps students begin to consider a broader set of options than they might other wise. The best way to make the distinction is with examples. Mechanical Engineering is, fundamentally, applied Physics. So a student interested in a Physics major (pure discipline) might also want to explore its practical application in Engineering (applied major). The fields of Journalism, Public Relations, and even Digital Media draw heavily on writing skills. So, students who enjoy English (pure discipline) might also want to consider these majors in other fields that draw heavily on related skills. Students with strengths in Art (pure discipline) may also want to consider Graphic Design, Marketing Communication, Digital Media, Interior Design, or Industrial Design – all applied majors.
A benefit of applied majors is that they offer a clear progression to career opportunities, internship options, and typically lead to larger starting salaries than their pure discipline major counterparts. There is also the opportunity to partner applied majors and minors with pure discipline majors and minors such that real synergies are realized. For example an Art major may be combined with a Graphic Design minor or vice versa. These types of combinations are powerfully motivating to students, offering both intellectual growth and practical application.
The campus visit is a great way to help students explore these options. As an ex-faculty member, I recommend that students meet with a faculty member from each major they are considering in order to learn about what they would be studying in the major and where the major might ultimately lead them. We believe that students benefit when they explore multiple related options and make decisions with their "eyes wide open."
About the Author: After touring 60 of the best colleges in Ohio, Dr. Jay, a prior faculty member and dean, founded College Bound Advantage (CBA) – a Columbus, Ohio college consulting firm. CBA specializes in helping families optimize college selection around 18 "fit factors" and helping students clarify co-curricular and major options while exploring colleges that specialize in them.  College Bound Advantage serves all of Ohio including Cleveland, Akron, and Cincinnati metro areas.