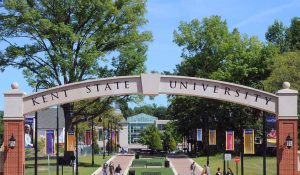 KSU was established in 1910 as a teacher-training school. Since that time, it has grown into one of the largest public universities in Ohio with nearly 30,000 students involved in over 300 degree programs offered on its main campus. Known nationally for its famous "Fashion School," KSU offers one of only five Fashion Design majors in Ohio as well as a solid Fashion Merchandising program (see our prior blog on Fashion majors). Rockwell Hall is the home of  KSU's Fashion Museum – check it out.  KSU also has one of the largest undergraduate Nursing programs in the country with a number of graduate Nursing program options including Nurse Practitioner. Other signature programs include Aeronautics, Aerospace Engineering, Accounting (and other AACSB accredited business majors), Construction Management, Architecture, Computer Science, and others.
In May, 1970, students protesting the bombing of Cambodia by United States military forces clashed with the Ohio National Guard on the KSU campus. When the Guardsmembers shot and killed four students on May 4, the Kent State shootings became the focal point of a nation deeply divided by the Vietnam War. Today visitors to campus can tour a museum dedicated to this piece of our collective history. Students can even choose to major in their nationally recognized Applied Conflict Management program housed in the Center for Applied Conflict Management dedicated to the events of 1970.
Beyond academics, KSU offers students over 400 student organizations and a wide variety of activities across the academic year. KSU has a two-year residence requirement for entering freshmen (unless their families live close). Today over 80% of freshmen live on campus. There are over 20 dining options on campus and KSU is know for its great food! Division I NCAA athletics (the Golden Flashes you know) as well as plenty of Club Sports and Intramural sports are also available. If you haven't seen KSU lately, it's worth a visit – you'll be impressed.
About the Author: After touring 60 of the best colleges in Ohio, Dr. Jay, a prior faculty member and dean, founded College Bound Advantage (CBA); a Columbus Ohio college consulting firm. CBA specializes in helping families optimize college selection around 15 "fit factors." College Bound Advantage serves all of Ohio including Cleveland, Akron, and Cincinnati metro areas.
In order to purchase a more extensive proprietary "Campus Field Report" on any Ohio college discussed for only $10, click here: https://collegeboundadvantage.com/campus-field-report-access/