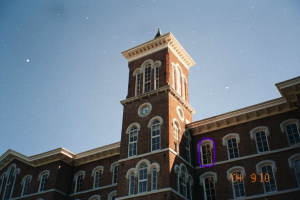 College Hall
Lake Erie College's historic campus is located in Painesville, Ohio. If you are interested in things that go bump in the night, this campus is for you! A center for paranormal activity, Lake Erie College claims to host apparitions in various locations across their beautiful campus. As much as we would like to share all the stories, this post will explore only one.
Legend has it that sometime in the mid-1800s when Lake Erie College was an all girls school, a student named Stephanie had begun her studies. Somewhere along the way, she had an affair with a professor and became pregnant. When he refused to marry her she became depressed and, on one fateful evening, hung herself on the fourth-floor bell tower of College Hall, the oldest building on campus.
After her death, students began to report seeing her glowing white figure in a fourth floor window of College Hall. They claim she peers out the window, perhaps in search of her lost lover. The floor was often seen illuminated by dim, flickering lights late at night and students below spoke of hearing footsteps and occasional wailing from the floor above even though it had been closed and locked tight. Service workers entering the floor were occasionally frightened enough to refuse to ever return. Even TV paranormal ghost hunters investigated the fourth floor. One took an interesting photograph – check out the circled fourth floor window in the picture above.
As if that wasn't enough, students claim that Stephanie occasionally leaves College Hall in search of entertainment. There is a cracked mirror in the Social Parlor in the nearby Morley Music Building. Stephanie has occasionally been seen walking out of the mirror, dressed in eveningwear, on her way to an evening performance. After curtain calls, she returns through the mirror from whence she came.
So, if you ever visit Lake Erie College, plan to take in a performance in Morley Music Building. Perhaps order a beverage and wander into the Social Parlor. Check out your eveningwear in the standing mirror on the far side of the room. Just don't be disturbed if someone else is looking back at you. On your way to your car after the show, glance over your shoulder at the 4th floor of College Hall and bid Stephanie a good night.
This is our last Ohio college ghost story for this Halloween season. We hope you have enjoyed the ride. Next year there will be more thrills and chills as we feature four more tales of the paranormal from our Ohio colleges. Happy Halloween!
About the Author: After touring 60 of the best colleges in Ohio, Dr. Jay, a prior faculty member and dean, founded College Bound Advantage (CBA) – a Columbus, Ohio college consulting firm. CBA specializes in helping families optimize college selection around 18 "fit factors" and helping students clarify co-curricular and major options while exploring colleges that specialize in them.  College Bound Advantage serves all of Ohio including Cleveland, Akron, and Cincinnati metro areas. Check us out at www.collegeboundadvantage.com .