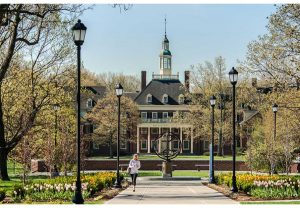 In 1985, Richard Moll wrote a book about America's premier public universities where he describes Miami as one of America's original eight "Public Ivies." Today, Miami lives up to its reputation as one of the premier public undergraduate-focused universities in the country. Direct entry as a freshman is quite competitive, however similar to OSU, "back door" entry is possible at lower GPA levels for transfer students.
Since Miami offers relatively few graduate programs, they focus on undergraduate education and do it well. At Miami, over 90% of all students are undergraduates. All classes are taught by professors, not teaching assistants. There is a strong commitment to the liberal arts and, akin to Ohio's Big 5 Liberal Arts colleges, many majors are interdisciplinary by design. While there are also many professional programs, all are undergirded by a strong commitment to the liberal arts.
Miami offers over 100 undergraduate major options, with particularly strong programs in Business, Political Science, Nutrition, Physics, and in the Humanities.  The three largest majors are all in business and include Finance, Accounting, and Marketing. Kinesiology, Public Relations, Zoology, and Early Childhood Education are also large majors.
In addition to strong academics, Miami offers students over 500 student organization with options including a vibrant Greek system (35% of students involved), NCAA Division I athletics, including one of the most exciting Hockey teams in Ohio, over 50 Club Sports, and another 30 intramural sport offerings. Study Abroad is popular at Miami with over 45% of students participating before graduation. Winter break extends over 6 weeks and includes a 3-week "January Term" that many students use to study abroad. All-in-all, it's doubtful anyone is ever bored in the quaint village of Oxford, Ohio!
About the Author: After touring 60 of the best colleges in Ohio, Dr. Jay, a prior faculty member and dean, founded College Bound Advantage (CBA); a Columbus Ohio college consulting firm. CBA specializes in helping families optimize college selection around 15 "fit factors." College Bound Advantage serves all of Ohio including Cleveland, Akron, and Cincinnati metro areas.
In order to purchase a more extensive proprietary "Campus Field Report" on any Ohio college discussed for only $10, click here: https://collegeboundadvantage.com/campus-field-report-access/