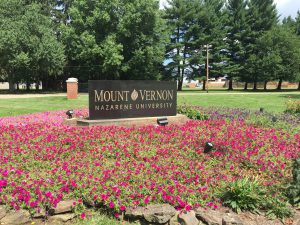 MVNU students say that they are "Intentionally Christian." They are also inclusive. Students do not have to sign a statement of faith, and there are even non-Christian students enrolled at MVNU – they are welcomed and supported. While students must earn 36 chapel credits per semester there are a number of ways to do so. Chapel is offered MWF at 10:00am. It is well attended. There are also service and mission opportunities that offer Chapel Credits. A prayer before class is not unusual.
MVNU's main campus enrollment is around 1,300 students. In the fall of 2016, MVNU welcomed their largest freshman class ever at around 370 students. Many students hail from small towns, most in Ohio (92%).
Add to that new and growing programs in Engineering (Mechanical and Electrical) and Communication Sciences & Disorders (Pre-Speech Pathology or Audiology) as well as existing strong programs in Nursing, Early Childhood Education, Business Administration, and Biology and you have a vibrant institution with a lot to offer.
Campus Video: Check out our video compilation of photos from our last visit to Mount Vernon Nazarene University: https://www.youtube.com/watch?v=dV-gmkvIqDo
About the Author: After touring 60 of the best colleges in Ohio, Dr. Jay, a prior faculty member and dean, founded College Bound Advantage (CBA); a Columbus Ohio college consulting firm. CBA specializes in helping families optimize college selection around 15 "fit factors." College Bound Advantage serves all of Ohio including Cleveland, Akron, and Cincinnati metro areas.
In order to purchase a more extensive proprietary "Campus Field Report" on any Ohio college discussed, click here: https://collegeboundadvantage.com/campus-field-report-access/