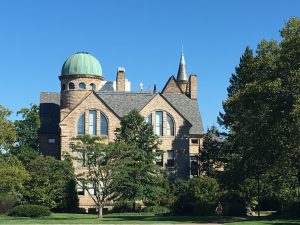 Oberlin College, one of Ohio's "Big 5" liberal arts colleges, was founded in 1833 and was the first college in America to admit students of color and the first to grant degrees to women in a coed program. Today, many of Oberlin's students still "bleed for a cause." They are liberal, academically capable, and focused on making a difference in the world.
Located 35 miles southwest of Cleveland, Oberlin enrolls 2,300 students in its highly ranked College of Arts and Sciences and another 600 in its prestigious Conservatory of Music. Oberlin is a true liberal arts college as professional programs are essentially non-existent. Instead, students immerse themselves in the humanities (particularly languages and cultures), social sciences, and the sciences. Many double major and all enjoy significant interdisciplinary study. Some take advantage of research opportunities supported by faculty.
The campus is beautiful, students are busy, and there is plenty to do. Of course, all this doesn't come cheap. Oberlin is the 9th most expensive college in the country although, like others, they commit significant resources to providing students scholarships to reduce their cost and encourage their enrollment.
Campus Video: Check out our video compilation of photos from our last visit to Oberlin College and Conservatory https://www.youtube.com/watch?v=YhvjiYjbZbY
About the Author: After touring 60 of the best colleges in Ohio, Dr. Jay, a prior faculty member and dean, founded College Bound Advantage (CBA); a Columbus Ohio college consulting firm. CBA specializes in helping families optimize college selection around 15 "fit factors." College Bound Advantage serves all of Ohio including Cleveland, Akron, and Cincinnati metro areas.
In order to purchase a more extensive proprietary "Campus Field Report" on any Ohio college discussed, click here: https://collegeboundadvantage.com/campus-field-report-access/