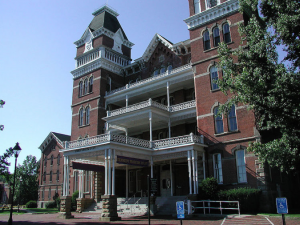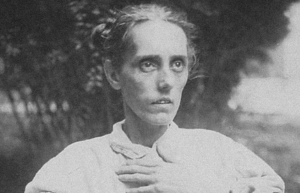 The Athens Lunatic Asylum opened in 1874 and specialized in the treatment of criminally and mentally insane patients. The majority of the original patients were admitted by court order or by their own families. In the early years, "The Ridges," as it came to be known, was recognized as a calm, peaceful place that benefitted the health of its patients. As the number of patients grew over the years, patient care declined and many new and more invasive therapies such as ice baths, electro-shock therapy and lobotomies began to be employed. Later, overcrowding further deteriorated care. During the mid-1900s the mix of patients changed as well, with many parents admitting rebellious teenagers and other more challenging patients.
The combination of overcrowding, employment of more invasive treatments, and change in the mix of patients led to a number of incidents including the unfortunate case of Margaret Schilling. On December 1, 1978 a patient named Margaret Schilling mysteriously disappeared. As the story goes, Margaret and several other patients were playing hide and seek with the nurses, who became distracted and forgot to look for her. The search began the next day when they realized she was missing, but was unsuccessful at first. Over a month later, a maintenance worker discovered her lifeless remains locked into a seldom used building. When they removed her body, a stain was left on the floor caused by her decomposition. That stain remains today, as do the stories of her paranormal activities.
In 1993 the Asylum closed with all land and buildings were donated to Ohio University. It was not long before renovation began and students began to attend classes at the Ridges. The Kennedy Museum of Art was established there and plans were developed to turn the property into a mixed-use university development. As students began to spend time at the Ridges there began reports of paranormal activity including disembodied screams in the middle of the night, electric anomalies, rattling door handles, and vanishing spectral images. Some of these events occurred in the area where Margaret Schilling's remains were found and, were thus, attributed to her.
So, if you plan to visit Ohio University, you might take a few minutes to stop by The Ridges and tour the Kennedy Museum of Art or just walk the grounds. If you hear or see anything unusual or frightening, you should not fret. It's probably only be Margaret Schilling hoping to finally be found in what has become, an endless game of hide and seek.
Well, that's our final Ohio college ghost story for this year. Best wishes to you and a happy Halloween!
About the Author: After touring 60 of the best colleges in Ohio, Dr. Jay, a prior faculty member and dean, founded College Bound Advantage (CBA) – a Columbus, Ohio college consulting firm. CBA specializes in helping families optimize college selection around 18 "fit factors" and helping students clarify co-curricular and major options while exploring colleges that specialize in them.  College Bound Advantage serves all of Ohio including Cleveland, Akron, and Cincinnati metro areas. Check us out at www.collegeboundadvantage.com or check out what we can do for you here: https://www.youtube.com/watch?v=J6SSjHp8n98