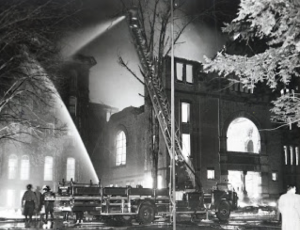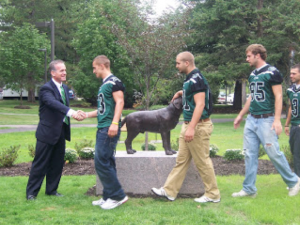 If you find yourself east of Cleveland near the small town of Painesville, Ohio you should take some time to visit and tour the campus of Lake Erie College. Founded in 1856, you will enjoy exploring historic buildings and wandering around its beautiful park-like campus.  If you pay attention, you might notice the statue of a dog named Tiberius. Legend has it that Tiberius was a chocolate lab that belonged to Harriot Young, a Dean of the college in its early days when it was an all woman's school. Each day, Tiberius would hang out on campus enjoying the students, wandering the buildings, and even attending classes. As the years passed, Tiberius became a central figure on campus – there wasn't a student, staff, or faculty member who didn't know and love Tiberius. Of course, all good things must come to an end.  Ultimately Tiberius became old and died. The entire campus mourned the loss of their guardian dog and honored him with a statue in 1910. It soon became tradition to pet the statue for good luck. You see, Tiberius had become in death, as in life, a campus protector and good luck charm. Students would pat Tiberius on the head for luck before exams, presentations, auditions, and athletic events.
While many students considered the Tiberius tradition to be nostalgically heartwarming, others wondered if Tiberius had ever really abandoned his watch over the students at Lake Erie College. And rightfully so! You see, one spring night in 1957, two woman woke up in their residence hall room to the sounds of a frantic barking dog. The women rose to investigate. They followed the sound out the front door of Memorial Hall only to discover that the building was on fire. They rushed back in, and woke up the seventeen other girls who lived in the dorm at the time. All nineteen of them then stood outside in only their night clothes and light coats, watching as Memorial Hall and all their possessions burned to the ground. Of course, that's not the end of the story. You see, no one was able to determine the source of the barking. The next day, students gathered around the nearby statue of Tiberius wondering if their dog's spirit had once again risen to protect his beloved students.
Today, Lake Erie College is on its fourth statue of Tiberius and students still seek protection and good luck by patting him on the head. So, if you happen to visit campus, stop by Tiberius' statue and learn a bit more about his legend. Then, as night falls, if by chance you hear the sound of a frantic barking dog, don't worry…it's just an old friend trying to help his beloved students stay out of trouble.
About the Author: After touring 60 of the best colleges in Ohio, Dr. Jay, a prior faculty member and dean, founded College Bound Advantage (CBA) – a Columbus, Ohio college consulting firm. CBA specializes in helping families optimize college selection around 18 "fit factors" and helping students clarify co-curricular and major options while exploring colleges that specialize in them.  College Bound Advantage serves all of Ohio including Cleveland, Akron, and Cincinnati metro areas. Check us out at www.collegeboundadvantage.com or check out what we can do for you here: https://www.youtube.com/watch?v=J6SSjHp8n98