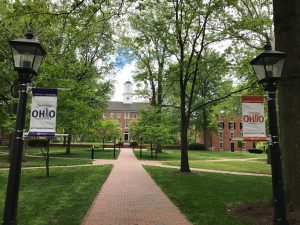 Ohio University is one of America's oldest universities. It's charter was proposed in 1787, approved in 1804, and opened for students in 1809. Considered by many, including us, to be one of the most beautiful campuses in America, OU is nestled in the rolling hills of southern Ohio in the quaint town of Athens.
OU is known for its strong academic programs in Communication, Engineering, Business, and Health Sciences. Beyond rigorous academics they also offer students over 450 organization options, an active Greek system, NCAA Division I varsity athletics, a multitude of club sport and intramural teams, a world class recreation center, and a residential campus that is as active on the weekends as during the week.
The university's marching band, The "Ohio University Marching 110," nicknamed "The Most Exciting Band In The Land," is nationally recognized and plays at major venues around the country.
In 1975, OU established a medical school, known as the Ohio University Heritage College of Osteopathic Medicine. Heritage is the only medical college in the state to award the D.O. degree. In 2011, the college received the largest private donation ever to be given to a medical college in the U.S.
We could go on, but just know that OU has a rich history and lots of exciting things going on – you should check it out!
Campus Video: Check out our video compilation of photos from our most recent visit to Ohio University:
About the Author: After touring 60 of the best colleges in Ohio, Dr. Jay, a prior faculty member and dean, founded College Bound Advantage (CBA); a Columbus Ohio college consulting firm. CBA specializes in helping families optimize college selection around 15 "fit factors." College Bound Advantage serves all of Ohio including Cleveland, Akron, and Cincinnati metro areas.
In order to purchase a more extensive proprietary "Campus Field Report" on any Ohio college discussed for only $10, click here: https://collegeboundadvantage.com/campus-field-report-access/