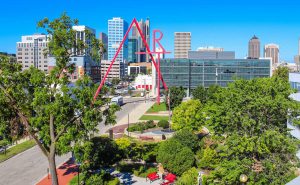 Ohio is home to three specialty Art and Design Colleges, all of which are accredited by the National Association of Schools of Art and Design. They include Columbus College of Art and Design, Cleveland Institute of Art, and the Art Academy of Cincinnati. These schools date back to the 1800s and are located in the center of the urban art districts of our state. Major offerings include such areas of study as photography, videography, illustration, animation, interior design, industrial (product) design, graphic design, fashion design, painting, ceramics,  and others. These are unique think tanks for creatives. They are not for the faint of heart, but instead are rigorous training grounds for students who take their art seriously and want to organize their lives around it.
So, why study art and design at a specialty art college versus an art department within a more comprehensive university? Simply put, for students at these colleges, their entire world is integrated by shared artistic concepts and connected to a network of other artists practicing in an variety of art forms. Additionally, these colleges are networked to the art and design world in a way that ensures an ongoing steam of speakers, teachers, professionals, and creative organizations through their doors.
This summer, CBA spent a day at the largest two of these three schools. Let's hike a bit further down the trail and take a look at each one.
About the Author: After touring 60 of the best colleges in Ohio, Dr. Jay, a prior faculty member and dean, founded College Bound Advantage (CBA); a Columbus Ohio college consulting firm. CBA specializes in helping families optimize college selection around 15 "fit factors." College Bound Advantage serves all of Ohio including Cleveland, Akron, and Cincinnati metro areas.
In order to purchase a more extensive proprietary "Campus Field Report" on any Ohio college discussed, click here: https://collegeboundadvantage.com/campus-field-report-access/