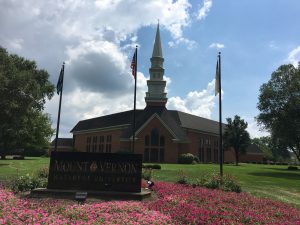 Ohio is the home of five respected "passionately Christian" colleges.  So, first a broad overview, and then we'll hike a bit further down the trail and take a closer look at the four Ohio Christian colleges we visited this summer.
First, it's important to understand that the vast majority of Ohio's private institutions were founded in affiliation with a Christian denomination. Today, most of those institutions reflect their denominational heritage in their missions, values, curricular and co-curricular program offerings, rituals, institutional structure, and so on. However, over the years, most have become increasingly inclusive, diverse, academically focused, and their identity has become less reliant on their Christian denominational affiliation. So, that brings us to what I will call, "Ohio's Big 5 Christian Colleges." These colleges are intentionally Christian and work hard to integrate their faith perspective in all that they do.
So, who are they and what is the denominational affiliation of each? They include…
1. Cedarville University – Baptist
2. Franciscan University of Steubenville – Roman Catholic
3. Mount Vernon Nazarene University – Nazarene
4. Malone University – Quaker
5. Bluffton University – Mennonite
Now, from a practical "family looking for a college" perspective, what are a few of the factors that differentiate these schools from each other?
1. The nature of the "chapel requirement" – The Big 5 believe in the Christian community and, to varying degrees, bring their communities together for worship.
2. Required courses/minors – Required courses in Bible, Theology, Philosophy, and other curricular requirements vary by institution.
3. What is taught inside courses – This varies from reflecting upon what it means to be a nurse and a Christian to the study of Creationism in a biology course.
4. Opportunities for Activism – Some institutions support, to varying degrees, student activism around human rights issues.
5. Opportunities for Service – Colleges support and provide a wide-variety of service opportunities both in the US and outside to their students.
6. Required Statement of Faith – Colleges may require some combination of faculty, staff, and/or students to sign and adhere to a statement of faith aligned with the school's values/teachings.
7. Conservative behavioral code of conduct – This varies from residence hall rules to codes of honesty.
8. Formation of small, supportive, Christian student groups for discussion and reflection.
So, let's take a closer look at some of these vibrant Christian communities.
About the Author: After touring 60 of the best colleges in Ohio, Dr. Jay, a prior faculty member and dean, founded College Bound Advantage (CBA); a Columbus Ohio college consulting firm. CBA specializes in helping families optimize college selection around 15 "fit factors." College Bound Advantage serves all of Ohio including Cleveland, Akron, and Cincinnati metro areas.
In order to purchase a more extensive proprietary "Campus Field Report" on any Ohio college discussed, click here: https://collegeboundadvantage.com/campus-field-report-access/