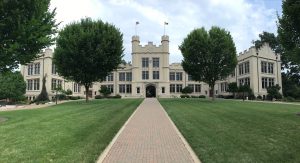 In case you didn't know, Ohio is home to five of the finest "Liberal Arts" colleges in the country. Collectively, they form the "Five Colleges of Ohio," a consortium of Ohio liberal arts colleges which includes Kenyon College, Oberlin College, Ohio Wesleyan University, The College of Wooster, and Denison University.
In their purest form, Liberal Arts institutions only offer degrees in the Arts and Sciences, with a particular affinity for the humanities (subjects such as philosophy, literature, religion, art, music, history, and language that focus on how people process and document the human experience) and the sciences. What they don't do is offer academic majors in the professions. So, in a pure liberal arts institution you won't typically see degree programs in business, engineering, social work, education (with licensure), nursing, and the like. These institutions tend to be small, selective, undergraduate-focused, liberal, teaching institutions with big endowments (savings accounts), and a broad reach (recruit well beyond Ohio's borders). They value an interdisciplinary approach to education so tend to organize their curriculum to encourage breadth over depth and connections over silos. They work hard to develop a student's critical thinking and verbal and written communication skills. In most cases, over 50% of graduates move on to graduate school within a few years of completing their undergraduate work.
These are fine institutions, but not a good fit for everyone for a number of reasons. I'll have a lot more to say on that further down the trail! Thanks for hiking with us.
About the Author: After touring 60 of the best colleges in Ohio, Dr. Jay, a prior faculty member and dean, founded College Bound Advantage (CBA); a Columbus Ohio college consulting firm. CBA specializes in helping families optimize college selection around 15 "fit factors." College Bound Advantage serves all of Ohio including Cleveland, Akron, and Cincinnati metro areas.
In order to purchase a more extensive proprietary "Campus Field Report" on any Ohio college discussed, click here: https://collegeboundadvantage.com/campus-field-report-access/