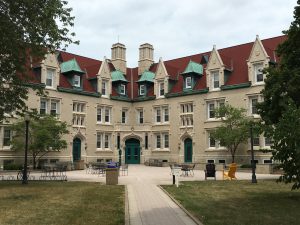 The College of Wooster is a private liberal arts college with around 2,000 students, located in Wooster, Ohio. It is recognized as one of Ohio's renowned "Big 5" liberal arts colleges. Founded in 1866 by the Presbyterian Church, the College of Wooster is best known for its emphasis on mentored undergraduate research. Wooster has an Independent Study (IS) program, in which all students work one-on-one with a faculty advisor to complete a 50-100 page written thesis (or other project) during their senior year. The project, which began in 1947, is presented and orally defended. Students are prepared for the IS with academic experiences in each of their first three years. Successful students are rewarded with a diploma, lots of pride, and a Tootsie Roll (not kidding).
Wooster was named a member of Loren Pope's, "Colleges that Change Lives" and is consistently ranked as a top liberal arts college in the country. Admission is competitive and only 30% of Wooster's students are from Ohio
Students say that Wooster is "non-competitive" and "non-pretentious." While students work hard for grades, the attitude is one of collaboration and support versus competition. Students also refer to Wooster as a "hello" campus as students consistently greet each other on campus.
In terms of academics, History, Biology, Communication Studies, and English are the largest majors and are all strong, but check out Anthropology and Archaeology. Many students transfer into these majors after sampling a course or two.
Check out our video compilation of photos taken on our last visit to the College of Wooster: https://www.youtube.com/watch?v=cAzvHFZ28nw
About the Author: After touring 60 of the best colleges in Ohio, Dr. Jay, a prior faculty member and dean, founded College Bound Advantage (CBA); a Columbus Ohio college consulting firm. CBA specializes in helping families optimize college selection around 15 "fit factors." College Bound Advantage serves all of Ohio including Cleveland, Akron, and Cincinnati metro areas.
In order to purchase a more extensive proprietary "Campus Field Report" on any Ohio college discussed, click here: https://collegeboundadvantage.com/campus-field-report-access/