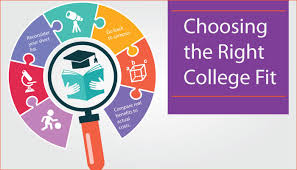 My consulting practice, while addressing family's college admissions questions, focuses primarily on helping families optimize college fit. So, what's the difference?
The college admissions process focuses on the tasks related to gaining admission to college – completing applications, preparing for the ACT, writing the college essay, applying for financial aid, completing the FAFSA, using the Common Application, determining application status (early admission, early decision, etc.) and a myriad of other things. As a result of the time sensitivity of the tasks involved, the admissions process is where parents and high school counselors typically focus most of their attention, energy, and resources. In fact, most college consultants focus on optimizing this process as most previously served on college admissions staffs themselves – they help students gain admission to selective, "big brand," colleges.
In contrast, the college fit process focuses on the strategic aspects of the college search process including identifying and exploring good fit majors, student organizations, and colleges to explore. It begins by systematically clarifying everything you want in a college, including cost, and then matching your list to colleges that are good at all the things you want. It continues when families orchestrate strategic campus visits allowing students to explore good fit colleges, major options, and potential student organization/activity involvements. It culminates in a final, informed, college choice. This is where we focus our attention when working with clients. In contrast to admissions process consultants who spent their formative years as admissions counselors, our college fit consultants are prior faculty members and academic advisors.
The difference between the college admissions process and the college fit process can be compared to the difference between the tax return filing process and the financial planning process. Filing a tax return, similar to gaining college admission, is a task-focused and time sensitive process and everyone has to complete it. It is fraught with forms, deadlines, and requires compliance with established processes and procedures.
In contrast, financial planning and college fit are more strategic processes. They are NOT governed by deadlines, task lists, or compliance requirements.  The focus is more on the identification of options, exploration, and planning. Unlike filing a tax return which everyone does, many people choose not to financial plan in a way similar to how they choose not to plan for college fit. In either case the result can range from sub-optimal to catastrophic.
What is the real value of gaining admission to a college that doesn't have everything you want, costs more than you can afford, or fails to offer the academic programs or academic support that you need? Is it really a good idea to assume that once your student gets to college that they will "figure out" what they want to major in or might find interesting? At what point does changing majors become problematic or too expensive? Is it reasonable to assume that your student will understand all available campus life options, real difference between colleges, or the implications of sizeable student loans? We encourage parents to lift their focus from the attention-grabbing and time-consuming college admissions process to include the aspects of college choice related to why you are going through the admissions process in the first place.
Our practice, as well as our new book, "Field Guide to Ohio's Best Colleges" focuses on the often-neglected college fit process. We hope you will too.
About the Author: After touring 60 of the best colleges in Ohio, Dr. Jay, a prior faculty member and dean, founded College Bound Advantage (CBA) – a Columbus, Ohio college consulting firm. CBA specializes in helping families optimize college selection around 18 "fit factors" and helping students clarify co-curricular and major options while exploring colleges that specialize in them.  College Bound Advantage serves all of Ohio including Cleveland, Akron, and Cincinnati metro areas. Check us out at www.collegeboundadvantage.com or check out what we can do for you here: https://www.youtube.com/watch?v=J6SSjHp8n98