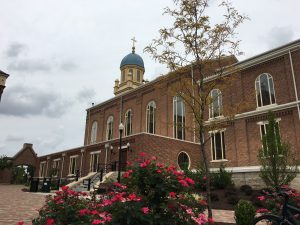 The University of Dayton (UD) is a private Roman Catholic University located in Dayton. Founded in 1850 by Catholic Marianists, UD is the largest private university in Ohio. Located on 388 acres, UD has 8,000 undergraduate and 3,000 graduate students hailing from across the US and 40 countries.
Academic programs are organized into the College of Arts and Sciences; School of Business Administration; School of Education and Health Sciences; and School of Engineering. As one might suspect, programs in engineering, business, education, and health sciences are all strong at UD.
Outside of the classroom UD offers 240 student organizations, NCAA Division I athletics (Rudy Flyer is the mascot!), a vibrant Greek system, and plenty of community outreach. With over 85% of students living on campus, many in unique small cottages, there is always plenty going on.
The UD Research Institute attracts over $90 million in sponsored research each year, much of which is supported by student involvement. Professional preparation is important at UD as evidenced by 95% of graduates employed or in graduate school within 6 months of graduation.
Campus Video: Check out our video compilation of photos taken on our last visit to the University of Dayton: https://www.youtube.com/watch?v=56sGCMwQMvQ
About the Author: After touring 60 of the best colleges in Ohio, Dr. Jay, a prior faculty member and dean, founded College Bound Advantage (CBA); a Columbus Ohio college consulting firm. CBA specializes in helping families optimize college selection around 15 "fit factors." College Bound Advantage serves all of Ohio including Cleveland, Akron, and Cincinnati metro areas.
In order to purchase a more extensive proprietary "Campus Field Report" on any Ohio college discussed, click here: https://collegeboundadvantage.com/campus-field-report-access/