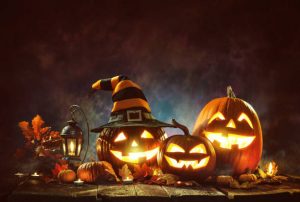 As the nights grow longer, shadows lengthen, and the leaves begin to change color and fall from the trees, we are reminded that it is about time to offer this year's Ohio college ghost stories. This is the fourth season we have featured some of the most haunted colleges and chill-inducing stories for your your enjoyment and these stories have become our most popular posts of the year.
This year we offer two stories. The first is the story of the Athen's Lunatic Asylum which is now referred to as "The Ridges." This unique property is now owned by Ohio University. After a bit of history, we will look at the unfortunate demise of a patient, Margaret Schilling, and all that has followed since. Our second story is more heart warming but still somewhat eerie. Our story is of the dog Tiberius whose loving and dedicated commitment to the students of Lake Erie College continued after his life ended…as did their dedication to him.
So, as the wind whispers over the moor like a lost soul, we invite you to check back over the next 30 days as we publish these two seasonal tales.
About the Author: After touring 60 of the best colleges in Ohio, Dr. Jay, a prior faculty member and dean, founded College Bound Advantage (CBA) – a Columbus, Ohio college consulting firm. CBA specializes in helping families optimize college selection around 18 "fit factors" and helping students clarify co-curricular and major options while exploring colleges that specialize in them.  College Bound Advantage serves all of Ohio including Cleveland, Akron, and Cincinnati metro areas. Check us out at www.collegeboundadvantage.com or check out what we can do for you here: https://www.youtube.com/watch?v=J6SSjHp8n98