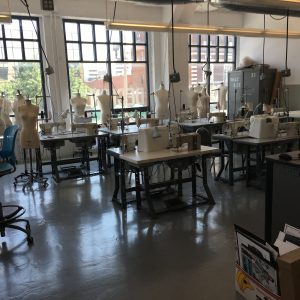 Fashion Design Lab at CCAD
For students interested in "Fashion," the first distinction to make is the difference between majors in "Fashion Design" and "Fashion Merchandising." Fashion Design focuses on the nuts and bolts of designing and making clothing and accessories (we're talking sewing machines, patterns, fabric, etc.). Students study fashion sketching and illustration, computer design, pattern making, and fabric selection. It is a very demanding and time consuming major and the Devil is always in the details. Fashion Merchandising, on the other hand, focuses on the skills aligned with the demands of a retail or wholesale fashion/clothing buyer. Students learn about the fashion industry and the attributes of fashion styles and products – their design, manufacture, and distribution. They also may take courses in the Business school such as Marketing and Retail Sales.
Ohio has only four colleges offering majors in Fashion Design: They include one of the best in the country at Kent State University's "Fashion School" where they offer a BA and BFA in Fashion Design. Not far behind is Columbus College of Art & Design's program in Fashion Design and University of Cincinnati's major in Design – Fashion. Finally, Ursuline offers the only adult program in Fashion Design in the state.
Alternatively, there are many programs in Fashion Merchandising in Ohio, with offerings at Kent State University, Ashland University, Bowling Green State University, University of Cincinnati, Ohio University, Ohio State University, University of Akron, and Ursuline College.
About the Author: After touring 60 of the best colleges in Ohio, Dr. Jay, a prior faculty member and dean, founded College Bound Advantage (CBA); a Columbus Ohio college consulting firm. CBA specializes in helping families optimize college selection around 15 "fit factors." College Bound Advantage serves all of Ohio including Cleveland, Akron, and Cincinnati metro areas.
In order to purchase a more extensive proprietary "Campus Field Report" on any Ohio college discussed, click here: https://collegeboundadvantage.com/campus-field-report-access/