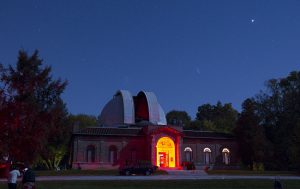 Perkins Observatory
Did you know that only one Ohio college offers an undergraduate major in Planetary Science? So, who offers it…..
Planetary Science is an interdisciplinary field that integrates coursework in Geology, Astronomy, Chemistry, Geography, and Physics all in the service of understanding planets and other small celestial bodies in our solar system and beyond. Students explore the origin of planetary systems; review planetary geochemistry and geology; and apply remote sensing data to help understand planetary terrestrial environments.
One might think it more likely that a large, comprehensive public institution would have the academic horsepower to pull together and integrate all those areas of study into one program – wrong!
Most Planetary Science students double major with either Geology, Chemistry, Physics, Geography, or Astrophysics. Most move on to graduate school in one of these areas of interest.
So, enough wondering and waiting. So, where is the only Planetary Science Major in the state of Ohio? With all those hints, you may have guessed by now – it's at Ohio Wesleyan University! OWU has a long history of offerings in the astronomical and geoscience areas. They even have two observatories on or near campus. Granted one is used by the Astronomy Club and is a bit run down and the other (Perkins Observatory) serves a broad audience including the community, students, and faculty/student researchers. Either way, Ohio should be proud to have this unique offering….even if only at one institution.
Campus Video: Check out our video compilation of photos from our last visit to Ohio Wesleyan University: https://www.youtube.com/watch?v=ExpBRG4ARDM
About the Author: After touring 60 of the best colleges in Ohio, Dr. Jay, a prior faculty member and dean, founded College Bound Advantage (CBA); a Columbus Ohio college consulting firm. CBA specializes in helping families optimize college selection around 15 "fit factors." College Bound Advantage serves all of Ohio including Cleveland, Akron, and Cincinnati metro areas.
In order to purchase a more extensive proprietary "Campus Field Report" on any Ohio college discussed, click here: https://collegeboundadvantage.com/campus-field-report-access/