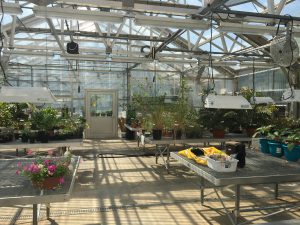 The Toxicology Greenhouse is behind that locked door! We're dying to get in!
There are only 10 undergraduate Toxicology majors in the United States and one of them is in Ohio! So, what is Toxicology? It's the study of the effects of poisons on living organisms. The curriculum includes extensive work in chemistry and biology as well as a course sequence specifically in Toxicology. Students ponder such questions as, "why some plants and animals are poisonous; why certain drugs have side effects; and how exposure to certain air pollutants impact human health?" The program is served by a special Greenhouse that grows toxic plants for use in the program. Needless to say, it is kept under lock and key.
Of course, most students majoring in Toxicology don't plan on becoming toxicologists. Instead, they integrate the required courses for admission to medical school, dental school, pharmacy school, and others (most of those courses are already required) and go on to one or another health science graduate schools. How cool is that?
So, where is this unusual program offered? None other than at our very own Ashland University. It also might interest you that the median salary for a Toxicologist in 2016 was $74,000.
Campus Video: Check out our video compilation of photos taken during our last visit to Ashland University: https://www.youtube.com/watch?v=P50KWJFR8v8
About the Author: After touring 60 of the best colleges in Ohio, Dr. Jay, a prior faculty member and dean, founded College Bound Advantage (CBA); a Columbus Ohio college consulting firm. CBA specializes in helping families optimize college selection around 15 "fit factors." College Bound Advantage serves all of Ohio including Cleveland, Akron, and Cincinnati metro areas.
In order to purchase a more extensive proprietary "Campus Field Report" on any Ohio college discussed, click here: https://collegeboundadvantage.com/campus-field-report-access/