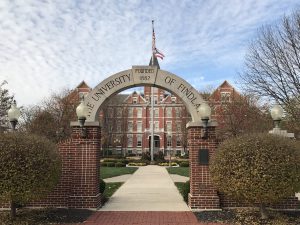 Founded in 1882, the University of Findlay has grown significantly in recent years. Today, with over 4,000 undergraduate and graduate students UF enrolls students in one of 54 undergraduate majors, ten master's degree programs and three doctoral degree programs. Over the years, UF has developed signature programs in Equestrian riding (Western and English styles), Animal Science, Physical Therapy, Occupational Therapy, Diagnostic Science (various options), Physician Assistant Studies, Pharmacy, Children's Book Illustration, and Environmental, Safety & Occupational Health Management. How's that for a diverse set of professional academic offerings! Add to that over 100 student organizations, an active set of 24 NCAA Division II varsity sports (including two equestrian riding teams), Greek Life, and a beautiful campus and it all adds up to a "Must See" institution!
Campus Video: Check out our video compilation of photos from our most recent visit to the University of Findlay: https://www.youtube.com/watch?v=8wtt7anT57k
About the Author: After touring 60 of the best colleges in Ohio, Dr. Jay, a prior faculty member and dean, founded College Bound Advantage (CBA); a Columbus Ohio college consulting firm. CBA specializes in helping families optimize college selection around 15 "fit factors." College Bound Advantage serves all of Ohio including Cleveland, Akron, and Cincinnati metro areas.
In order to purchase a more extensive proprietary "Campus Field Report" on any Ohio college discussed, click here: https://collegeboundadvantage.com/campus-field-report-access/