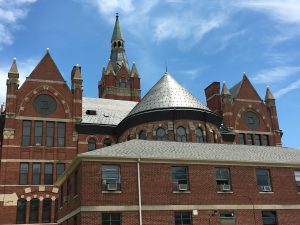 Wittenberg University is a private four-year liberal arts college in Springfield, Ohio serving 2,000 full-time students representing 37 states and a number of foreign countries as well. With an emphasis on the liberal arts, an active Greek system, varsity and intramural athletics, and plenty for students to do on campus, Wittenberg has a lot to offer.
The most popular majors at Wittenberg, however, are not in the liberal arts. They are found in Business (majors in Accounting, Management, Marketing, Entrepreneurship, and Finance), Education (licensures in Early Childhood, Middle Childhood, and Intervention Specialist), and Biology (Pre-Med, etc.). Students also say that they have good programs in Communication and Theatre.
The minor in Marine Science is unique, with many students taking a field trip or studying for a semester at the Duke University Marine Laboratory.
In 2010, the journal "Princeton Review" ranked Wittenberg 11th in the nation for "Best Classroom Experience", and 15th in the nation for "Professors Get High Marks". In addition, Princeton Review ranked the college's campus the 18th most beautiful in the nation in 2009.
Campus Video: Check out our video compilation of photos taken at our last visit to Wittenberg University: https://www.youtube.com/edit?o=U&video_id=VMvzxheRS1U
About the Author: After touring 60 of the best colleges in Ohio, Dr. Jay, a prior faculty member and dean, founded College Bound Advantage (CBA); a Columbus Ohio college consulting firm. CBA specializes in helping families optimize college selection around 15 "fit factors." College Bound Advantage serves all of Ohio including Cleveland, Akron, and Cincinnati metro areas.
In order to purchase a more extensive proprietary "Campus Field Report" on any Ohio college discussed, click here: https://collegeboundadvantage.com/campus-field-report-access/