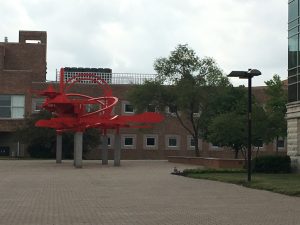 Wright State University, located in Dayton, began in 1964 as a branch campus of Miami University and The Ohio state University. Much of the land WSU sits on was donated by the United States Air Force from excess acreage of Wright-Patterson Air Force Base. In 1967, following a period of substantial growth, the Ohio Board of Regents transformed the campus into today's Wright State University. The name was chosen in honor of the Wright brothers, Dayton residents who are credited with the invention of the world's first successful airplane.
Today, WSU enjoys an undergraduate enrollment of 12,000 (3,000 in campus housing and another 5,000 living in adjacent apartment housing) and a graduate enrollment of 4,000. Admission requirements are doable for most and remedial courses are readily available if needed. Students separately apply when they are ready for entry to academic majors which have varying requirements. Strong programs include Business (AACSB accredited business school), Engineering, Nursing, Education, and Theatre. A wide variety of major and minor options, relatively small class sizes, and modern facilities support student learning and success.
The WSU campus is ranked 3rd nationally in terms of "physical disability friendly." This designation is, in part, a result of their more modern facilities and the accessible tunnel system that links academic buildings underground. No need to walk out in the snow storm at WSU!
We were impressed with so many things about WSU and also appreciated their low tuition (3rd lowest in Ohio). Check 'em out!
Campus Video: Check out our video compilation of photos from our most recent visit to Wright State University:
About the Author: After touring 60 of the best colleges in Ohio, Dr. Jay, a prior faculty member and dean, founded College Bound Advantage (CBA); a Columbus Ohio college consulting firm. CBA specializes in helping families optimize college selection around 15 "fit factors." College Bound Advantage serves all of Ohio including Cleveland, Akron, and Cincinnati metro areas.
In order to purchase a more extensive proprietary "Campus Field Report" on any Ohio college discussed for only $10, click here: https://collegeboundadvantage.com/campus-field-report-access/